Personal Pleasure Pack by Duality Heart Work x Self Study by euni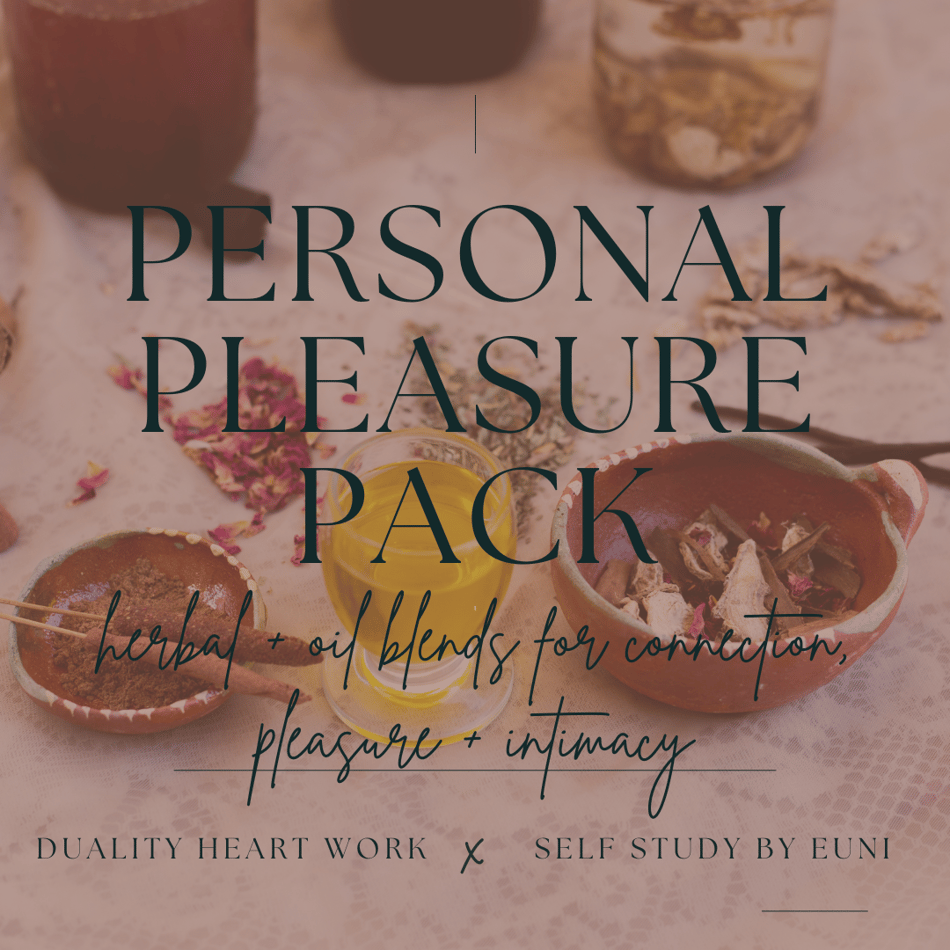 Personal Pleasure Pack
Herbal + Oil Blends for connection, pleasure + intimacy by Duality Heart Work x Self Study by euni
This will be offered during our upcoming Fall/Winter Embodied Healing + Intentional Intimacy series.

You can enjoy for a single session or grab a multi-use ritual pack. Centering reverence + intentionality is core for us and with this at the heart, all of our blends and packages will be small batch and limited edition. We will be offering these online and through the retail in the @theropecollective studio.
About the Personal Pleasure Pack
This herbal + oil blend is designed to be used for guided connection, aftercare + intimacy alone or with another. The Personal Pleasure Pack is a collaborative medicinal + energetic blend crafted with care + intentionality by Duality Heart work + Self Study by euni. The oil + tea blend is designed to help soothe, awaken, and align your senses for opening to deeper connection, pleasure, and play. Each pack includes herbs + oils carefully selected, blended, and infused by herbalist, Carmen Mason and then activated + Blessed with the healing energetic life force of reiki by euni.


Includes a herbal body oil infusion + herbal tea blend crafted in San Diego, CA. Purchase + enjoy for single session or a multi-use ritual pack to continue expanding + deepening your pleasure over time.

Ingredients + usage:
Tea blend packet includes: Rooibos, rose, cinnamon, ginger and vanilla bean
Oil Infusion includes: Organic fractionated coconut oil infused with organic ginger, organic sesame oil infused with organic damiana leaf, organic sweet almond oil infused with organic red rose + organic cold pressed extra virgin olive oil
Handcrafted in San Diego by Carmen Mason, sealed with reiki energy healing by euni
NOTE: Herbal blends + infusions are not a replacement for medical advice, support or information. What we share here + through our offers is for educational purposes only. The herbs aren't meant to replace medical treatment, and you should take ample time to do your own research, consult your doctor or medical team, and creating space to test our how your body will engage with herbal options before you dive all the way into utilizing for support. Consider your allergies, needs, and contraindications and se with your own risk, especially if you are pregnant or trying to conceive as some herbs may need to be explored with greater caution.
Join the Fall/Winter
Embodied Healing + Intentional Intimacy Series
The Fall/Winter Embodied Healing + Intentional Intimacy Series can be experienced by purchasing single tickets to each event or you can buy a bundle which will give you access to all 5 events. Attendees will receive access to information, tools, and for selected events, products they can purchase to take home with them to continue expanding their own integration and exploration journey. Single events are available for purchase on a $25- $75 sliding scale range or the all access bundle to full series is available for $200.
You can purchase the Pleasure + Play Pack with your event ticket or at the event for $10 for a single session or you can order a multi-use package that includes an herbal body oil infusion + an herbal tea blend crafted locally here in San Diego, CA. Learn more here.
Series line up:
Foundational Pleasure + Play, 10/25 at 7pm
Intimacy + Aftercare, 11/6 at 10:30am
Intro to Kink, Part I, 11/15 at 7pm
Intro to Kink, Part II, 11/22 at 7pm
Tantra, Intimacy + Connection, 12/13 at 7pm
Questions or access accommodations, please email euni at hi@selfstudylab.com
This series will take place in person at The Rope Collective studio in Barrio Logan, right next to downtown San Diego. Address and access details will be provided for registered guests when you purchase your ticket + again the day of the event. Learn more about The Rope Collective + other healing + kink centered events at theropecollective.com