(Re)Embodiment After Disassociation as a Ritual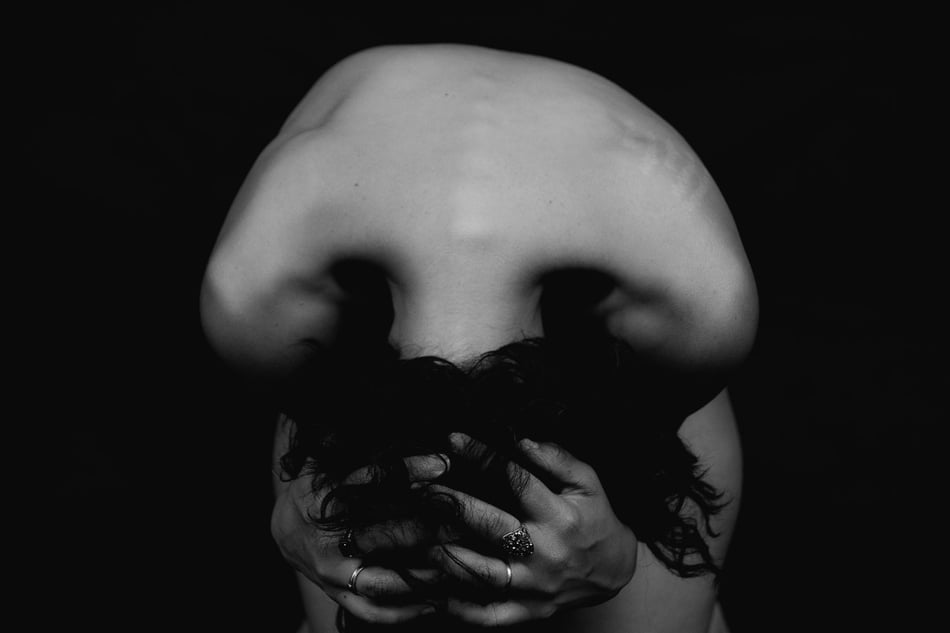 In daily life we're disconnected from ourselves. We walk, but we don't know we're walking. We're here but we don't know that we're here. We're alive, but we don't know that we're alive. Through the day, we lose ourselves.

- Thich Nhat Hanh, The Art of Communicating
There is a rush of discomfort, perhaps even at times pain that comes through connection with ourselves. So, just as we relate to others, we often keep intimacy with ourselves surface, guarded, controlling, and conditional. We often center escapism, numbing, partial truths, and resorting to habits, behaviors, and situations that cause us harm in one way or another.
Trauma takes us away from ourselves. It confuses the body-mind-heart-soul in ways that lead to damage, pain, mistrust, and the inability to determine what is true in the current moment because with trauma, we are often kept living in the past.
In surfacing deeply stored traumas I've acquired ancestrally through my DNA, generationally through family structures, and personally through lifestyle choices, exposure, and relationships, I've learned how to disconnect from the present moment so deeply that decades of my life have been distorted, forgotten, and perhaps unrecorded in my memory. Worse, there are chunks of time that no matter how intently I search, I cannot find details for experiences I recall being a part of. And perhaps the most heartbreaking, there are glimpses of my existence that I have been able to witness myself incapable of actually living, rather, just existing in a motion to get on to the next.
Disassociation has been the majority of my lived experience. I hold a 9 on the ACE's score, which sheds visibility to why much of my life has been lived in what has felt like a cloud. Gives perspective as to why I fawn, often flee, or at times when I feel small senses of distress, I freeze or shutdown in response to the stimulation or conflict being too great. It also opens understanding to how I had learned to survive by centering coping mechanisms to numb, hide, shut down, disconnect, and in cases of heightened overwhelm, begin leaving my body and mind.
Disassociation is the way the mind copes with too much stress, such as a traumatic event, in a way that may leave you feeling disconnected from yourself and the world around you. It may leave you feeling detached from your body or feel as though the world around you is unreal. (mind.org.uk) When experiencing disassociation, you may feel disconnected from your thoughts, feelings, memories, and surroundings. It can affect your sense of identity and your perception of time. The symptoms often go away on their own. It may take hours, days, or weeks. (WebMD)
When the stress is too much and one can't change the situation or escape from it, then one dissociates.

- Dr. Gabor Mate, says in an interview with Mindspace in discussing stresses impact on children.
How do we begin rewriting the response to stress of leaving our bodies and shutting down our minds with rebuilding a sense of connection that feels safe?
This is the question I ask many times a day in a variety of ways. It's a committed practice I explore personally in order to re-embody in every moment I can and deepen my connection with my body-mind-heart-soul, the present moment, nature, space, and my physical surroundings. Re-embodiment is a practice of connection with the Divine, my culture, my ancestors, and Universe. And in relationship with others platonically, sexually, and romantically.
Centering intimacy has become a healing practice that's only agenda is to stay within the body. This practice looks different moment to moment, day to day. It calls for flexibility, fluidity, grace, compassion, commitment, and presence. It demands dedicated time to exploring loneliness, pain, pleasure, fear, trust, truth, and surfacing deeply stored stories that have been buried to feel safe.
Re-embodiment as a ritual must be tended to with dedicated intentionality. It is an agreement with your soul and a non-negotiable commitment with yourself to live within your body no matter how overwhelming life gets. It's a promise to come back home to yourself with tenderness, compassion, and love after the moments when you discover you've disconnected once again from yourself.
The risk of dedicating to re-embodiment as a ritual is losing relationship with everything you've learned that keeps you guarded, disconnected, and in pain. The reward is liberation. But the journey to liberation is not one that is light-hearted. And it is not a path that comes without pain. Just like a foot that has fallen asleep after you've sat on it for too long, reawakening your body-mind-heart-soul will have waves of feeling that evoke pain, shame, and sensations that can been way too much.
This is why it is important to understand that reclaiming your life after disassociation is a lifelong commitment of coming home to yourself. Over and over again. It is a process that comes with lots of trying and failing as you relearn what truly feels safe or harmful and how to deeply feel without reopening old wounds or co-creating new traumas.
This commitment has demanded that I've sacrificed the life I had been given in order to build a life that I can live within filled with joy, purpose, presence, and pleasure. This is what has called me to being with people through transitions that often embed trauma within our human containers such as grief, uncoupling and shifting relationships, healing + releasing shame, identity traumas, sexual and intimate violation, and reproductive changes such as conception, pregnancy, postpartum, and parenthood. The depth of my guidance is empowering integration and long term aftercare. And through my own self study and observations of clients and community members, I've learned that re-embodiment and healing lasts and harvests its best results when practiced through a network and community of supports over time rather than just one.
Ways that I personally practice re-embodiment and facilitate reconnection with self and others for individuals and couples are through:
Tantra

Reiki

Medicinal Movement

Photography

Emotional Expression + Release Multi-Media Art Therapy

Self Pleasure and Healing Touch

Trauma-Informed Relational Regulation

Conscious Non-Monogamous Relationships

Kink and Pleasure Play

Therapeutic Nature Immersion

Foundational Healing Rituals
I will be diving deeper into these practices in other articles on this site and sharing more personal experiences, reflections, excepts from my memoir, mindspins, and intimate re-embodiment rituals through my bi-monthly Substack newsletter.
I extend facilitated and guided healing rituals and practices to women, men, queer, and non-binary identifying folks who are opening up to the commitment of centering their own healing and liberation. If you'd like to begin exploring how to lead your own re-embodiment journey and lean into living a liberated life with guidance, I work with people 1:1, in partnership, and in closed-container groups that allow space for trauma-informed connection, community, and agency.
Find out more about me, the method, my current offers, and step into healing by submitting a request for a complimentary connection call to align the entry to your own liberation journey.