Bodywork for Embodied Pleasure Aftercare + Nourishment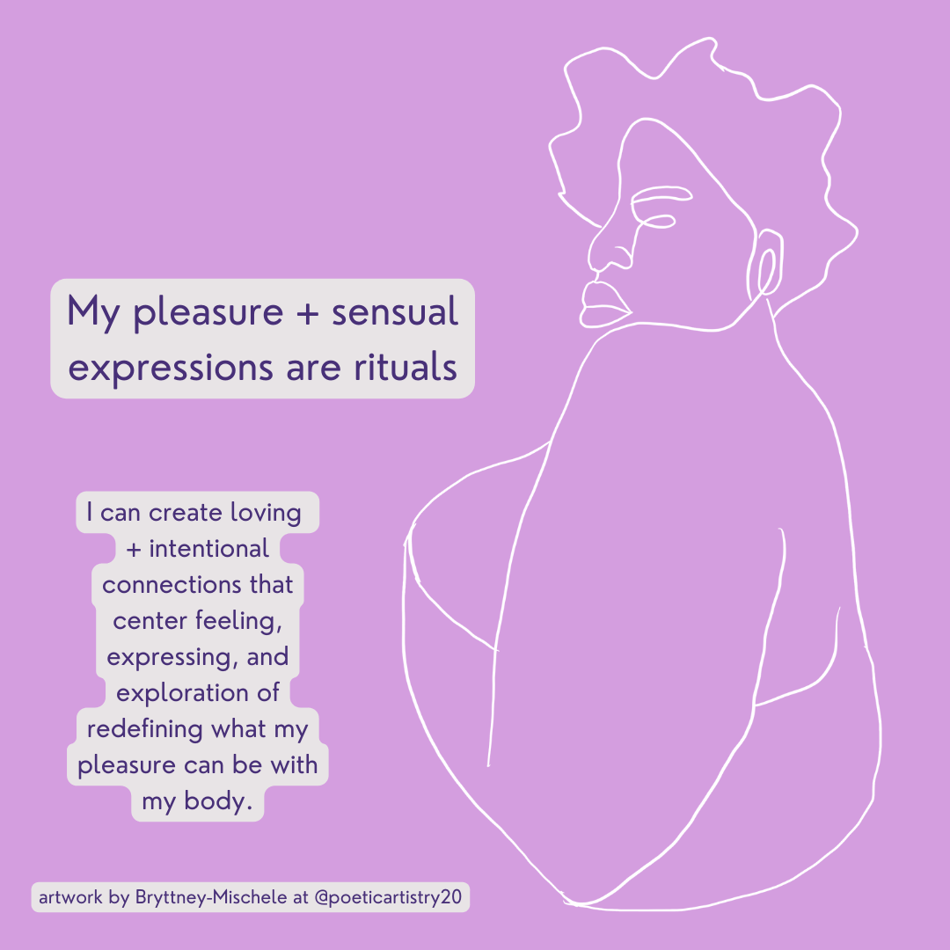 Bodywork is a broad term that can include a variety of modalities to create connection, care, release, healing, and pleasure within the body. Bodywork can include professionally trained methods and can also include non-traditional practices that support releasing tension, increase circulation, activate lympathic drainage, and can amplify or awaken the sensations and sensory experiences one feels in their body through the surface of the skin, manipulation of the hard + soft tissues, and channeling the energetic body.
Inside the Self Study Lab and as a part of the EMBODIED EsXeD series, we explored Bodywork for Embodied Pleasure. During this class we got to know a little about:
Abayanga, the Ayurvedic practice of warm oil massage. We explored this as a self connection practice and incorporated the Traditional Chinese Medicine technique of Gui Sha and dry brushing - a technique used across many cultures including East Asian, Greek, and Japanese.
---
AFTERCARE
Activities, prompts + information to explore after the class
After class - Take good care of yourself + one another practices:
Set a timer for 3, 5, 10, or 20 minutes and grab something to journal with. You can use one or a few of the prompts below to help you open up towards exploring how SHAME shows up in your life. Try looking at it from as neutral of a space as possible - allowing yourself to answer the questions honesty and then explore the answers with curiosity over judgement. How can shame support you? How is it hindering you? What are you ready to confront, expand, release + rewrite.
Join us Monday, 10/23 at 6pm PT for a live online class and guided embodied experience to support you with moving through and renaming shame and creating space to embody more authentic expressions through your body, sexuality, connections, pleasure + play.
Journaling prompts:
• What types of touch feel good on my skin and to my body?
• What items do I already have that I can use to create my own self connection pleasure rituals?
• What items would I like to get to explore new ways of pleasure?
• What stories and blocks are came up for me as I was exploring intentional intimate touch?
• How can I create space daily, weekly or frequently to allow rituals for self connection + intentional touch for pleasure to exist in my life?
What to explore deeper?
Join us for the next class in the EMBODIED EsXeD Series, Monday, November 13th from 6-7:30PM PT in Zoom Online for QUEERING Identities, Sexuality + Intimacy - a live, online class as part of our EMBODIED EsXeD Fall/Winter Cohort and the kickoff for the QUEERING EsXeD Series.
This class is part of the Embodied Sex Ed (EsXeD) Fall/Winter Series and can be accessed with a single class pass for $33 through Eventbrite or you can buy the Fall/Winter Series Bundle for $555 and receive access to all of the online classes, self paced pre-recorded content, downloadable workbooks, community discussions + connection spaces, live Q+A's with practitioners, facilitators + educators, and so much more!
Save your spot! Pick which option works best for you by clicking the link below.
Single Class Pass Ticket (RSVP through the Eventbrite event page)
Fall/Winter Series Bundle (Purchase the Bundle instead of a ticket through Eventbrite + receive access to all the EsXeD Fall/Winter Content and our online community through THE HUB)
ABOUT THE EVENT:
A space to explore, expand, and refine your embodied identities tied to your sexuality, gender, pleasure + intimacy. During this 90 minute workshop we will cultivate a space to rewrite the ways we feel and express that affirm our most authentic selves with a center and celebration for queerness.
This event will cover:
• Basic terminology and exploration of queer vocabulary
• Gender identities
• Centering creating space for social locations, disability & neurodivergence
• how do we notice & move thru shame to neutrality, acceptance, & even celebration & pride
---
Want to connect with + grow intentional community?
Meet us inside THE HUB by INBODY!
Come be a part of the most liberated art wellness community and meet your people. THE HUB is an online community space where we share our experiences, art, curiosities, and pleasure around through art, healing, intimacy, kink + relationships. THE HUB is an online space for conversations, sharing content, discounts on events, connection with education + top facilitators, and exclusive offerings only available inside THE HUB.