How Can Kink + Healing Co-Exist Ethically?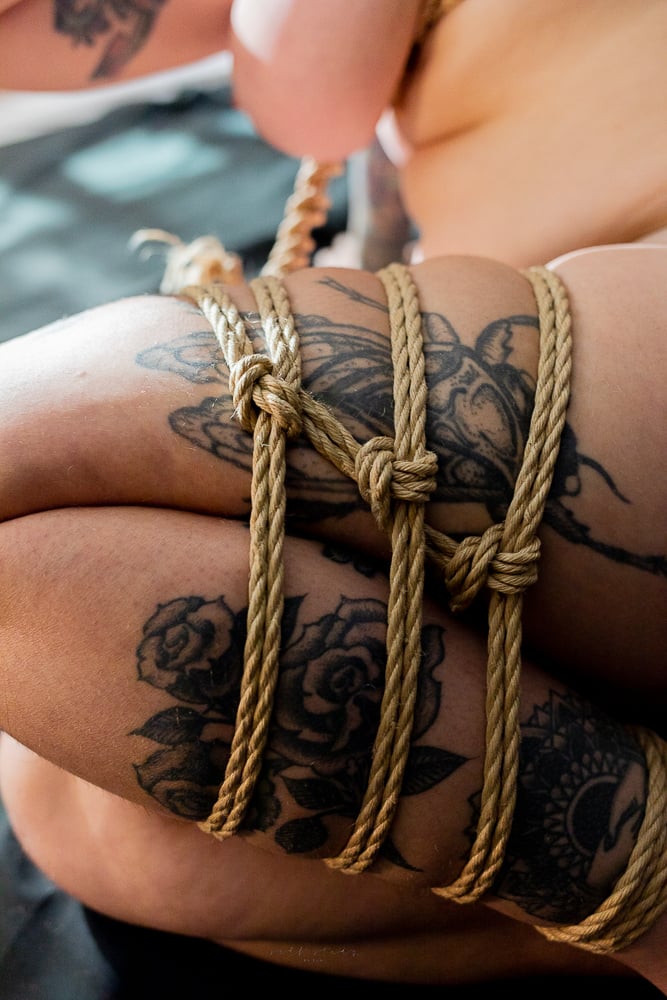 IT IS NOT UNCOMMON FOR HEALING AND KINK TO COEXIST, BUT IT IS IMPORTANT TO STAY CONSCIOUS AND AWARE THAT HEALING COMES FROM WITHIN. -

Toni Wendel + euni
Can healing + kink co-exist ethically?
There's much opinion and dialog, and rightfully so, around the idea that kink can provide healing. And admittedly, I believe that any experience has the possibility to expand one through their healing journey, but it's important and necessary to understand, identify, and clarify that healing is an intentional commitment to actions for change that guide one through their pain, trauma, imbalances, and distress in life. There is no single event, activity, or modality that can take the credit for "healing." It is a process that accumulates over time as one embodies the ability to receive and release with the support of outside community and internalized reworking of the ways the body-mind-heart-soul connect, process, and experience day to day life.
I feel that it is unethical to "market or sell" kink as healing or even frame it this way as a ploy to bring people into space and activities that are kink-adjacent. There are many nuances that cannot go without consideration when one decides to explore somatically centered practices. It is important for anyone considering opening up towards activities that push their edges through embodied experiences to approach with mindfulness, intentionality, clarity, and care. I believe that kink can often ignite avenues that can feel or provoke healing for relationship, identity, body autonomy, body + sexual shame, self harm, and mental distress that may not feel as accessible in other places. But if one is choosing to explore kink, for any reason - healing, personal pleasure, exploratory play. creativity, or beyond, taking ample time to identity ones own needs, boundaries, limitations, risks, safety protocols, ability to communicate, and cultivating connections for support and community that also align and understand this type of activity is vital.
Throughout this website, you'll find more tools, resources, and articles that can link to expanding your self-lead education as well as link you to more places to explore your curiosities before you move into actions. Below are some expanded thoughts on kink + healing that were co-created with my first rope bondage mentor, Toni Wendel, as we opened the doors to The Rope Collective studio in Barrio Logan in September 2022. With the decision to create a public space that people could come to to explore their curiosities with kink, rope bondage, and possibly retreat to for healing relief, we wanted to be clear on the close connections and possibilities of kink + healing coexisting under one roof, but also, that we are very intentional with how we present, share, and explore these together and the responsibility one is signing on to own up to when they choose to begin kink.
If you're curious about your connection and exploring your desires with kink, check out The Intro to Kink article from last fall where you will find links to popular online quizzes that will help you find connection and vocabulary to get started. More on kink + healing can be found on The Rope Collective's website under the about page.
ON HEALING
Healing is an embodied experience that evolves over time. It is an individual journey that one chooses and can be expanded through autonomy, self-determined safety, and community.
There is no single tool, method, or modality that will bring healing to every person at any given moment and a person's needs, desires, and capacity for exploration, connection, and community will shift and transform over time.
It's vital to acknowledge and hold space for the truth that each person's present reality is curated from the layers of their intersectionalities, traumas, grief, shame, relational experiences, familial + cultural expectations, societal privileges, and assigned + self-defined identities.
By allowing truths to surface and be redefined through exploring curiosity, new experiences, and finding community that aligns with what we need, we can liberate and deepen our individual and collective connection with the body-mind-heart-soul.
ON KINK
Kink is a powerful practice and art that brings us into a space where we can live an authentic and very human experience and existence.It is practiced and utilized in many different ways depending on the individual, context, and intention. Kink can be a practice that is sexual, artistic, meditative, social, playful, educational, or a combination of one or many of these. For many, the ways in which kink is practiced are fluid, fluctuating, and unique to each dynamic or situation. There are no requirements, expectations, or judgements in why you're practicing kink or how you'd like to practice with the stipulation that kink should always include a foundation of informed consent, proper negotiation, open communication, respect of boundaries, risk-awareness, and safety precautions.
It is not uncommon for healing and kink to coexist, but it is important to stay conscious and aware that healing comes from within. The practice of kink and the connection with others through kink may hold space for healing to unfold, but are not the sources. Often, people discover healing through kink by redefining and expanding their relationship with their own personal process, power, and agency.
Practitioners of kink, like many facilitators who practice body-mind work, can guide, facilitate, and hold space for healing. At the Collective we prioritize doing so by continuously developing and upholding a foundation rooted in ethical practice and conscientious care.
The practice of kink can and at times will put us in vulnerable positions, both physically and mentally, which inherently holds risk and possibility of harm. These risks can be mitigated through technical education, clear communication, and full respect of boundaries. This allows for connection, closeness with others, finding our voice, and discovering our bodies through vulnerability.
We hope that The Rope Collective can serve as a space for you to continually find, heal, and freely be yourself. Our Kink and Collective Wellness offerings will continue to evolve as our practitioners, educators, performers, and community grows and we are committed to being an inclusive, accessible source of education, healing, community, and expansive pleasure and play.
- Toni + euni
If you're curious to learn more about kink and beginning or expanding your own journey, consider joining us Tuesday, May 23rd from 6-7:30PM at The Rope Collective for Intro to Kink with Self Study or book a 1:1 Aftercare session with euni to dive deeper and cultivate your own personalized practice.